About our restaurant KONAMI.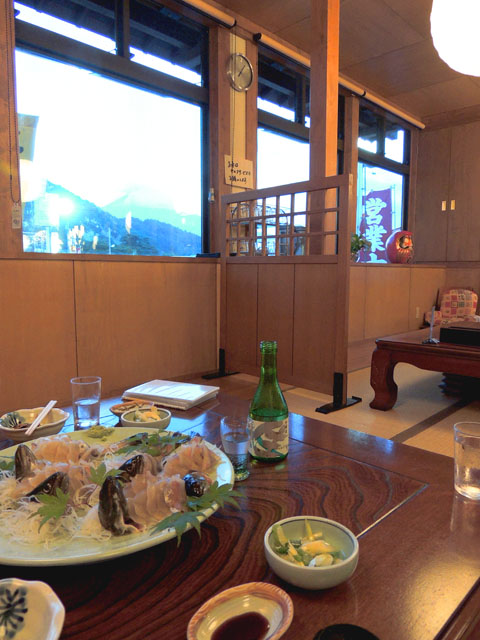 Welcome to the homepage of Restaurant & Rental boat KONAMI!
40 years has passed since we opened our shop KONAMI. Since its opening, we are engaged in a restaurant and a boat rental shop in here, Mount Fuji view, at the banks of Lake Kawaguchi, Yamanashi Prefecture.
KONAMI restaurant serves regional cuisine HOUTOU and dishes using regional specialty freshwater fishes "Yamame(trout)" and "Wakasagi(smelt)", and udon, soba, and drinks.
And in 2012, we renewed the store. Please enjoy our dishes and view of Mount Fuji in the table that has good lighting and enlarged.
In addition, Kawaguchiko is well known as a fishing lake that catch fish well. We are also engaged in fishing boat rental shop. Many guests are enjoying fishing with our fishing boats. You can catch carps, rainbow trout, wakasagi, and black bass. Please enjoy fishing time in Lake Kawaguchi, if you have time and mind of adventure!
YOU CAN SEE ENGLISH MENU IN OUR RESTAURANT.
Local cuisine in Yamanashi, Japan.



"HOUTOU" pot noodle.

1,200yen+tax

Hoto is Traditional regional noodle of Yamanashi, served in iron pot. The origin is military ration of Local army of the 16th century. 10 kinds of vegetables are cooked in miso flavor.




Sashimi of horse meat

1,200yen+tax

There is a custom of eating horse meat in Yamanashi. Because of almost no smell, not fatty taste of horse meat, it is eaten raw in many cases. It does not get seen much in Tokyo, because of rare production volume.




"Yamame" trout.

980yen+tax

Since there is no sea in Yamanashi, freshwater fishes are local specialty. Yamame is a type of trout. They can live only in clean water. We order Yamames from Oshino village, well known of fresh spring water.




"Wakasagi" small fish.

1,480yen+tax

Wakasagi is a small freshwater fish. A Kind of smelt. And local specialty of Lake Kawaguchi. The size is small, about 3 inches. They are cooked tempura and fly, eat whole. It is a soft, gentle taste.
INFORMATION
Our restaurant is here!
OUR NAME

KONAMI RENTAL BOAT & RESTAURANT

OUR ADDRESS

367-1, Asakawa Fuji-kawaguchikomachi Minamitsurugun Yamanashi, Japan

PHONE&FAX

0555-72-0349

WE OPEN

RESTAURANT 10:00~21:00
Back to toppage
Thank you for visitiong our page. We are looking forward to meeting you at KONAMI!
Back to toppage.